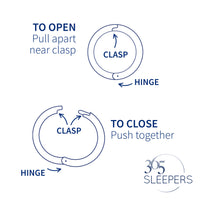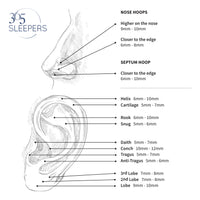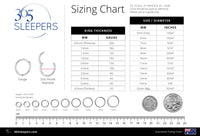 365 Sleepers
1 Pair 22ct Gold Plated Solid Sterling Silver Polished Hinged Hoop Sleeper Earrings
1 Pair of Gold Plated Solid Sterling Silver Sleepers
Handmade In Australia!
Ring Thickness: 1.0mm / 18 Gauge 
Size: Refers to INSIDE diameter of the sleeper
These are Handmade – size may vary slightly.
Yellow Gold Plated over Solid Sterling Silver
Suitable for Ears & Body Piercings
Hand crafted from Solid 925 Sterling Silver

Nickel Free & Hypoallergenic - suitable for new piercings and sensitive skin
Hinged Clasp - easy to put in and out of ear!
Unisex - Men, Women and Children of all ages!
Can be worn 24/7 – 365 days of the year
365 SLEEPERS Hoop Earrings have a smooth finish with no sharp edge and spin completely through the piercing making them extremely comfortable to wear. They are easy to open and close and do not require any tools. You can sleep, swim, work or exercise with these in as they click shut and will not fall out. Your piercing should be fully healed before changing jewellery. Sleeper Earrings need to be disinfected before using.

365 SLEEPERS is a Trusted Brand. We are a family business based in Sydney, Australia and have over 40 years of experience in the jewellery industry and only sell the highest quality jewellery. You're going to LOVE our Sleepe