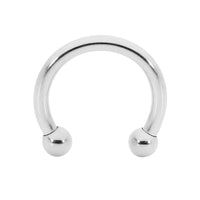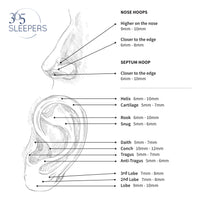 365 Sleepers
1 Piece Stainless Steel 20G - 2G Circular Barbell Horseshoe Bar Body Piercing
1 Piece Surgical Stainless Steel Circular Barbell
1 Single Barbell – sold individually
Ring Thickness Options: 20G / 0.8mm (thinnest) - 2G / 6.5mm (thickest)
Size: Refers to INSIDE diameter of the barbell / Size of balls

Solid 316L Surgical Stainless Steel

Suitable for Body Piercings
Hypoallergenic - suitable for new piercings and sensitive skin
Stainless Steel will not tarnish or discolour

Hinged Clasp - easy to put in and out of ear!
Unisex - Men, Women and Children of all ages!

Can be worn 24/7 – 365 days of the year
365 SLEEPERS Circular Barbells are comfortable to wear every day. You can sleep, swim, work or exercise with these in as they click shut and will not fall out. Your piercing should be fully healed before changing jewellery. Circular Barbells need to be disinfected before using.
365 SLEEPERS is a Trusted Brand. We are a family business based in Sydney, Australia and have over 40 years of experience in the jewellery industry and only sell the highest quality jewellery. You're going to LOVE our Sleepers, We Guarantee It!